US man could face death penalty over Thailand 'sea home'
Image copyright Thai Navy/EPA Image caption The couple dispute whether the structure sits in Thailand's territorial waters A US man and his partner could face the death penalty after they were accused of building a "sea home" off Thailand.Chad Elwartowski has gone into hiding with his girlfriend, Supranee Thepdet, after the navy said they had…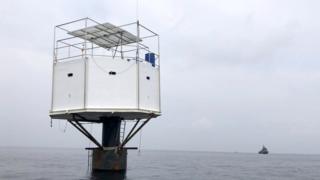 A US man and his partner could face the death penalty after they were accused of building a "sea home" off Thailand.
Chad Elwartowski has gone into hiding with his girlfriend, Supranee Thepdet, after the navy said they had threatened the country's sovereignty.
Their home, which sits atop a 20m (65ft) platform, is located around 12 miles (19km) off the coast of Phuket.
But Mr Elwartowski insists it is 13 miles from the shore and therefore outside of Thailand's jurisdiction.
"The navy and its team… found a concrete tank floating on the sea but there was no-one on it," police colonel Nikorn Somsuk told AFP news agency.
He added that the navy would meet local officials "to consider what to do next". The navy said the couple had failed to seek permission from Thailand before constructing the home.
If the couple are found guilty of violating Thailand's sovereignty they could face life in prison and even the death penalty.
What did the couple do?
Mr Elwartowski reportedly worked as a software engineer for the US military before becoming an investor in the virtual currency Bitcoin.
The couple belong to the so-called "seasteading" movement, which promotes the construction of homes in international waters so that they are not subject to any country's laws.
They are also part of Ocean Builders, a group of entrepreneurs who work to fund such homes.
In a video posted in February, Mr Elwartowski said the community was a place where "freedom-loving people can all gather together and actually be free".
The disputed structure was built that month, but was only discovered by the authorities this week.
A statement published on the Ocean Builders website says the couple did not build the home themselves and were in fact just tenants.
"They spent a few weeks on the seastead and documented their adventure," it said. "They were in no way involved in the design."
Mr Elwartowski told AFP that the couple were now hiding "in a fairly safe place".
How common is this?
The number of homes built in international waters is unclear, but there are several examples of so-called micronations that have been constructed for similar reasons.
Micronations are self-declared states not recognised by governments – one of the most famous, Sealand, is based on an offshore platform in the North Sea. It boasts its own flag, currency and even a football team.
Several unofficial and unrecognised micronations have also emerged in Australia.
These include Hutt River Province, a private estate 500km north of Perth, which announced it was seceding in 1970 in a row over wheat quotas. It also has its own flag and currency – the Hutt River Dollar.
And the micronation of Akhzivland in the north of Israel had a population of just two for nearly half a century.
That was until its founder and president, Eli Avivi, died last year aged 88.
Bitcoin Beats Other Cryptos in 'Smarter' Bull Market, Says Billionaire Investor
Bitcoin Beats Other Cryptos in 'Smarter' Bull Market, Says Billionaire InvestorBitcoin's dominance will only be more pronounced in this bull market and that'll show in its value, according to Mike Novogratz. | Source: ShutterstockBy CCN: Mike Novogratz, the billionaire CEO of Galaxy Capital and a former hedge fund manager at Fortress Investment Group, believes alternative cryptocurrencies, or altcoins, will be outperformed by bitcoin in the bull market.Not this time. Market getting smarter. $btc will outperform.— Michael Novogratz (@novogratz) May 19, 2019The statement of Novogratz comes after the bitcoin price risen by more than 115 percent year-to-date against the U.S. dollar, leading the crypto market to add $124 billion to its valuation.Will bitcoin continue to outperform altcoins?Historically, altcoins have relied on the price trend of bitcoin and have rarely demonstrated independent price movements in extended time frames.Altcoins typically surge in value when the bitcoin price shows stability at a tight price range, leaving investors to take high-risk and high-return options over the dominant cryptocurrency.The optimism towards bitcoin, despite the emergence of sophisticated altcoins, is well founded due to the involvement of major financial institutions in the likes of Fidelity and TD Ameritrade building infrastructure on top of bitcoin.Fidelity and ICE, the parent company of the New York Stock Exchange, are initially launching custodial services for bitcoin, targeting institutional investors.According to TD Ameritrade's executive vice president Steven Quirk, tens of thousands of clients at the brokerage already trade crypto assets in some capacity.But, traders suggest that if the sentiment around the crypto market remains overwhelmingly positive, investors will eventually explore alternative opportunities for high-return trades, which then may fuel a rally for altcoins.One cryptocurrency trader said that bitcoin is likely to climb further throughout 2019, triggering a healthy market for altcoins:The rest of this year will be characterized by rapid BTC advances, healthy corrections and periods of sideways price action, when altcoins will fly. Put that nonsense rhetoric about waiting for capitulation and still not making our bear market lows away. Wrong cycle.Full on degen altcoin season still on track for June. Next few weeks, as BTC finds a range, we'll continue to see the popular altcoins bounce back 1st. In June, all altcoins across the board will bounce back hard. More disbelief on its way.The concern of some investors like Novogratz on the prospect of a booming market for altcoins is that many retail investors were hurt in the 2017 bull market taking high-risk trades, trading against stable assets like bitcoin.As the market matures and as investors in the market become smarter, Novogratz indicated that the appetite for altcoins could decline.The crypto market has added more than $100 billion to its valuation year-to-date (source: coinmarketcap.com)Similarly, Jeff Sprecher, the chairman of the New York Stock Exchange, said in November 2018:Somehow bitcoin has lived in a swamp and survived. There are thousands of other tokens that you could argue are better but yet bitcoin continues to survive, thrive and attract attention.At the time, Sprecher emphasized that Bakkt, a futures market operator created by NYSE's parent company ICE, will focus on building a regulated infrastructure for bitcoin first ahead of other assets.Sentiment is generally positiveOn May 17, as CCN reported, the bitcoin price plummeted by 18 percent within hours following an unexpected 5,000 BTC sell order on Bitstamp that led prices of bitcoin and ethereum to crash on BitMEX.The market absorbed the abrupt decline in the bitcoin price fairly well, indicating that the confidence in the near-term price trend of crypto assets remains strong.While investors have cautioned that bitcoin has shown oversold conditions in recent weeks as it surpassed key resistance levels, the momentum of the asset could prevent it facing a large correction some expect would occur in the near-term. About The AuthorJoseph YoungHong Kong-Based Finance and Cryptocurrency Analyst. Contributing regularly to CCN and Hacked. Providing unique insights into the crypto and fintech space since 2012.This article was edited by Samburaj Das.
Source
Bitcoin's price has pumped beyond its 'intrinsic value,' JPMorgan says
Banking behemoth JP Morgan Chase & Co. has taken another shot at Bitcoin, BTC claiming the cryptocurrency's latest rally has pushed its price beyond its "intrinsic value."
"Over the past few days, the actual price has moved sharply over marginal cost," JPMorgan analysts wrote in a note obtained by Bloomberg. "This divergence between actual and intrinsic values carries some echoes of the spike higher in late 2017, and at the time this divergence was resolved mostly by a reduction in actual prices."
To come to this conclusion, the JP Morgan team treated Bitcoin as a commodity, calculating its "cost of production" based on a number of factors, including estimated computational power, electricity expense, and hardware energy efficiency.
"Defining an intrinsic or fair value for any cryptocurrency is clearly challenging," the analysts continued. "Indeed, views range from some researchers arguing that it has no fundamental value, to others estimating fair values well in excess of current prices."
Bitcoin's price briefly dropped from almost $8,000 to $7,050 on May 17, after $250 million of long positions got liquidated on BitMEX. Since then, BTC has surged back to $7,893 at the time of writing.
By now, JP Morgan has made a habit out of thrashing Bitcoin and cryptocurrencies. Back in 2017, CEO Jamie Dimon called the currency a "fraud" – a statement he later softened, suggesting he simply doesn't care about Bitcoin. Since then, JP Morgan launched its own blockchain-based "digital currency," which was neither a cryptocurrency, nor a stablecoin.
Published May 20, 2019 — 11:54 UTC